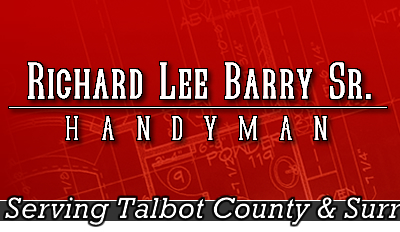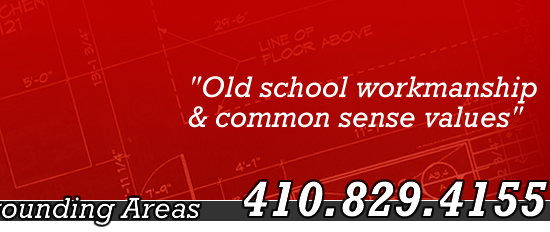 Welcome to RLB Handyman

Richard Lee Barry Sr is the knowledgeable and honest Easton, Maryland handyman of choice that provides services in many home repair categories including:

Serving Easton, Maryland and surrounding areas, such as St Michaels, Cambridge, Oxford, Denton, Trappe, Sherwood, Wye Mills, Unionville, Stevensville, Kent Island, Preston, Hurlock, & Federalsburg; RLB specializes in small and odd jobs that allow you to spend more time on important things in your life, like family and work. Not to mention, our years of experience and knowledge allows us to fix and repair more complicated things around the house professionally and correctly the first time.

Have a to do list you've been dragging your feet on? Call Richard Lee Barry Sr! No job is too small and can be done in no time!

Do you have gutters that you've been dreading on cleaning out? Put that ladder away, and call Richard Lee Barry Sr!

Do-it-yourself furniture from the store getting on your nerves! Stay away from all the small pieces and let Richard Lee Barry Sr. deal with those complicated assembly instructions!

So hand over that To-Do-List and Call Richard Lee Barry Sr today @ 410.829.4155!

Carpentry,  Gutter Cleaning & Repair,  Leaky Faucet Repair, Home Maintenance,  Caulk Bathtub,  Replace Locks, Picture Hanging,  Cabinet Door Adjustments,  Running Toilet Repair,  Squeaky Floor Repair,  Squeaky Door Repair,  Shingle Replacement,  Dryer Vent Cleaning and Replacement,  Molding / Trim Repair & Installation, Fascia & Soffit Repair,  Door Repair / Install, Door Seals Replace, Drywall Repair,  Painting, Replace Ceiling Fan,  Downspout Installation & Repair, Caulk Awnings and Siding,  Install Shelves,  Organizers,  Window Well Covers,  Replace Attic Fan, Draperies,  Blinds and Shades,  and more!

About Richard Lee Barry Sr

For over 30 years, I've been fixing, repairing, and replacing anything you can imagine. The ability to use my hands to do just about anything inside and out of the home is humbling and I enjoy helping anybody out with their To-Do-List.

There are many handymen out there these days, but none of them put their heart and soul into each project like I do. Not to mention, many of them don't have the experience and knowledge it takes to do it right the first time like I can.

So give me a call today, and put my skills to the test. I promise, you'll feel like you've dealt with an actual human being and not some person looking to make a quick buck.

- Richard Lee Barry Sr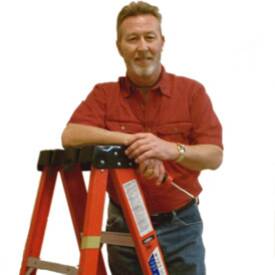 Richard Lee Barry Sr - Handyman   |   License #20274795   |   7080 Lauren Lane, Easton, MD 21601   |   410.829.4155

Keywords: Handyman Bethlehem, Handyman Bozman, Handyman Cambridge, Handyman Centreville, Handyman Chester, Handyman Claiborne, Handyman Cordova, Handyman Denton, Handyman East New Market, Handyman Federalsburg, Handyman Grasonville, Handyman Greensboro, Handyman Hillsboro, Handyman Hurlock, Handyman Linkwood, Handyman Madison, Handyman Mcdaniel, Handyman Neavitt, Handyman Newcomb, Handyman Oxford, Handyman Preston, Handyman Queen Anne, Handyman Queenstown, Handyman Rhodesdale, Handyman Ridgely, Handyman Royal Oak, Handyman Saint Michaels,, Handyman Secretary, Handyman Sherwood, Handyman Stevensville, Handyman Tilghman, Handyman Trappe, Handyman Wittman, Handyman Woolford, Handyman Wye Mills